Discovery Place Retreat Rates & Specials
Accommodation Rates | Reservations and Policies | Breakfast | Amenities
DISCOVERY PLACE RETREAT RATES:
Suite:

Spring
April - May
Summer
June - Sept
Fall
Oct - Nov
Winter
Dec - March


Jervis

$169.00

$189.00

$169.00

$159.00

Algerine

$149.00

$169.00

$149.00

$139.00

Based on double occupancy — Minimum reservation two nights.
Room rates are for the accommodation only. Self-serve continental breakfast add $15 per person determined upon arrival.
PHONE: 604-989-1842 or 1-604-885-0405 — RESERVE ONLINE
RESERVATIONS & POLICIES:
Minimum reservation two nights.
Reservations are recommended.
Posted Rates are for accommodation only.
Add $15/person for self-serve continental breakfast determined upon arrival.
Payment methods include: Cash, Visa, Mastercard, American Express.
Save Credit Card fee by paying Cash
Call us at 1-604-885-0405 or reserve online.
Check-in after 3pm, check-out at 11am.
Adult oriented.
Smoke free.
Pet free.

CANCELLATION POLICY:
Our main interest is to ensure your stay with us is truly enjoyable. A 50% deposit of the Total booking value is applied at time of booking to guarantee your reservations. A further 50% of the remaining Total is applied with less than 14 days cancellation notice by email to discover@discoveryplaceretreat.com, or the full amount for less than 48 hours notice.

Self-serve Breakfast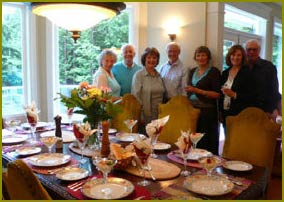 CONTINENTAL BREAKFAST (Additional $15/person)
We are accommodating our guests by implementing separate accommodation and meal fees. Some guests have family on the coast, need an early or late breakfast, want to try a local restaurant, do not eat breakfast, or need to catch an early ferry.
A Self-serve Continental Breakfast will be served between 8am and 9am.
Fresh fruit salad
Yogurt
Assorted cold cereals
Toast or English muffin and preserves
Orange juice
Coffee, Tea
Discovery Place uses local suppliers, of fresh quality ingredients whenever possible. Organic flour and grains for baking and organic fresh roasted coffee.

Features and Amenities
Our suites and guest area have everything you need: A private patio and entrance through French doors from the outside lawn and garden. Quality bedding, comforters, duvets, plush bathrobes, slippers and towels, hair dryers, soaps and shampoo. Also for your convenience we have provided you with high speed internet, TV, Business center with table and phone. Let us know if there is anything else you may need.